VALIDASI METODE PENGUJIAN KLORIDA PADA URANIUM DIOKSIDA DENGAN METODE TIDAK LANGSUNG MENGGUNAKAN SPEKTROFOTOMETER SERAPAN ATOM
Abstract
Metode tidak langsung pengujian klorida dilakukan dengan mereaksikan klorida dengan perak berlebih, kemudian kadar perak sisa yang tidak bereaksi dihitung. Penelitian ini bertujuan untuk mengetahui kelayakan suatu metode melalui beberapa parameter, seperti linieritas, akurasi dan presisi, limit kuantitasi, dan limit deteksi instrumen pada sampel tanpa matriks (A), sampel UO2 dengan penambahan larutan standar Cl setelah ekstraksi (B) dan sampel UO2 dengan penambahan larutan standar Cl sebelum ekstraksi (C). Diperoleh nilai regresi linier pada sampel A sebesar 0,997, pada sampel B sebesar 0,996, dan pada sampel C sebesar 0,995. Nilai recovery yang didapat pada sampel A sebesar 102,804 %, pada sampel B sebesar 98,924 %, dan pada sampel C sebesar 98,096 %. Nilai simpangan baku relatif yang didapatkan pada sampel A sebesar 1,4 %, pada sampel C sebesar 0,2 %, dan pada sampel B sebesar 0,5 %. Nilai limit deteksi pada sampel dengan matriks yang didapat dengan metode ini, yaitu 0,0958 µg/g dan 0,1024 µg/g, sedangkan nilai limit kuantitasi pada sampel dengan matriks yaitu 0,3195 µg/g dan 0,3415 µg/g. Berdasarkan hasil penelitian, dapat dinyatakan bahwa metode tervalidasi dan layak diterapkan di Laboratorium Kendali Kualitas – Instalasi Elemen Bakar Eksperimental.
Keywords
spektrofotometer serapan atom; uranium dioksida; klorida; validasi
References
Agilent Technologies. 2015. Flame Atomic Absorption Spectrometry Analytical Methods. Australia : Agilent Technologies.
ASTM C 753. 2016. Standard Specification for Nuclear-grade, Sinterable Uranium Dioxide Powder. ASTM International. Hal. 83 – 86.
AOAC. 2016. Official methods of analysis. Rockville: AOAC International.
Barnes RM, Júnior DS, Krug FJ. 2014. Introduction to sample preparation for trace element determination. Elsevier, Amsterdam, Hal. 1–58.
Crossland, Ian. 2012. Nuclear Fuel Cycle Science and Engineering. Cambridge: Woodhead Publishing Limited
Kim Dung, Nguyen Thi; Khai, Pham Ngoc; Cuc, Nguyen Thi; Thuan, Do Van. 2011. Preliminary studies of fluoride analysis on uranium containing samples (ADU) obtained from production of UO2 powder. Proceedings of the 9th National Conference on Nuclear Science and Technology.
Kantasubrata, Julia. 2015. Validasi Metode. Diktat Pelatihan Validasi Metode Uji dan Jaminan Mutu Hasil Uji. Serpong: PTBBN – BATAN.
Luiz de Souza, Alexandre, Marycel Elena Barboza Cotrim, Maria Aparecida Faustino Pires. 2013. Review article: An Overview of spectrometric techniques and sample for the determination of impurities in uranium nuclear fuel grade. Microchemical Journal 106. Elsevier. Hal. 194 – 201.
Mayerhöfer, Thomas Günter; Jürgen Popp. 2018. Why Absorbance Depends (Almost) Linearly on Concentration. ChemPhysChem Vol. 20 Hal. 511 – 515.
Murray, Raymond L. 2013. Nuclear Energy: An Introduction to the Concepts, Systems, and Applications of Nuclear Processes (4th Edition). North Carolina: Pergamon Press.
Mustika, Deni, Asminar, Rahmiati dan Torowati. 2016. Penentuan Recovery Dan Limit Deteksi Unsur Kadmium, Kobalt, Tembaga, Mangan, Nikel, Molibdenum Dan Timbal Pada UO2 Menggunakan Spektrofotometer Serapan Atom. Pengelolaan Instalasi Nuklir Vol. 9 No.17. Serpong: BATAN.
Rivera & Rodriguez. 2014. Horwitz Equation as Quality Benchmark in ISO/IEC 17025. Testing Laboratory, Bufete de Ingenieros Industriales
Rohman, Abdul. 2014. Validasi Penjaminan Mutu Metode Analisis Kimia. Yogyakarta: Gadjah Mada University Press.
S.K. Thulasidas, Santosh K. Gupta, M.K. Bhide, Neelam Goyal, and V. Natarajan. 2014. GFAAS Determination of Chloride in Uranium Using AgCl Precipitation. Atomic Spectroscopy Vol. 35(3), May/June 2014. Mumbai: Bhabha Atomic Research Centre.
DOI:
http://dx.doi.org/10.31153/instrumentasi.v45i2.235
Copyright (c) 2021 Instrumentasi
This work is licensed under a
Creative Commons Attribution-NonCommercial 4.0 International License
.
Copyright &copy 2015 Jurnal Instrumentasi (p-ISSN:
0125-9202
, e-ISSN:
2460-1462
). All Rights Reserved.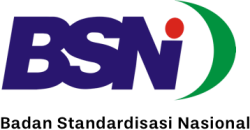 This work is licensed under a
Creative Commons Attribution-NonCommercial 4.0 International License
.