PEMELIHARAAN SEBUAH GRUP RESISTOR STANDAR UNTUK MENENTUKAN LAJU PERGESERAN NILAI RESISTOR STANDAR ACUAN MENGGUNAKAN DCCB
Abstract
Pemeliharaan sebuah grup resistor standar telah dikembangkan menjadi pengukuran yang diotomasi secara keseluruhan dengan maksud digunakan untuk memverifikasi resistor standar acuan di Puslit Metrologi LIPI. Dua metode, yaitu interkomparasi dan scaling-up, diterapkan untuk mendapatkan pembacaan rasio oleh direct current comparator bridge (DCCB). Sistem pengukuran yang digunakan beroperasi secara otomatis untuk melakukan sebanyak 47 sesi pengukuran. Dengan mengetahui nilai aktual awal dari rata-rata resistor 1 Ω dalam grup dan mengasumsikan nilainya tidak berubah selama periode observasi dalam satu tahun maka laju pergeseran nilai dari resistor standar acuan 1 kΩ dapat ditentukan. Hasil laju tersebut adalah (220 ± 15) nΩ/Ω per tahun dan dapat memverifikasi klaim yang ditetapkan oleh pabrikan.
Keywords
pemeliharaan, grup resistor, laju pergeseran, resistor standar acuan, DCCB
References
Fluke Corporation. 2016. 5430 Standard AC/DC Resistors. Terakhir dimodifikasi pada30 November 2016. http://us.flukecal.com/products/obsolete-products/5430-standardacdc-resistors.
Khairiyati, L., Sardjono, R. H., SyahadiM., Boynawan A. M., dan Ratnaningsih.2012. "Penetapan Nilai Resistor StandarTipe Thomas 1 Ω Berbasis Quantum HallResistance dengan Ketelitian Lebih Kecil dari0,3 ppm." Instrumentasi Scientific Publication36 (1) (Januari–Juni 2012): 45–53.
Dziuba, Ronald F. 1987. "The NBS Ohm:Past–Present–Future" (Paper No. VI-A, 15).Proc. Meas. Sciences Conf., 1987.
Lide, David R. 2002. A Century of Excellencein Measurements, Standards, and Technology(CRC Press). Prepared by R. Dziuba, N. B.Belecki, dan J. F. MayoWells based on excerptsfrom the paper The Ampere and ElectricalUnits, authored by members of the ElectricityDivision of NIST.
Elmquist, R. E., Jarrett , D. G., Jones Jr., G.R., Kraft, M. E., Shields S. H., dan Dziuba, R.F. 2003. NIST Measurement Service for DCStandard Resistors. US: NIST.
Belecki, N. B., Dziuba, R. F., Field, B.F., dan Taylor, B. N. 1989. Guidelines forimplementing the New Representations ofthe Volt and Ohm Effective January 1, 1990(NIST Technical Note 1263). ElectricityDivision National Institute of Standards andTechnology, June 1989.
Klitzing, K. V. 1985. The Quantized HallEffect (Noble Lecture). Max-Planck-Institutfur Festkorperforschung, D-7000 Stuttgart 80.
Cage, M. E., Dziuba R. F., Degrift, C. R. V, danYu, D. Y. 1989. "Determination of the TimeDependence of ΩNBS Using the QuantizedHall Resistance," IEEE Transactions onInstrumentation and Measurement 38 (2).
Azzumar, M. dan Faisal, A. 2015. "DiseminasiResistor Standar 1 kΩ ke Standar Kerja." JurnalStandardisasi 17 (3): 223–232.
DOI:
http://dx.doi.org/10.14203/instrumentasi.v40i1.133
Copyright (c) 2018 Instrumentasi
Copyright &copy 2015 Jurnal Instrumentasi (p-ISSN:
0125-9202
, e-ISSN:
2460-1462
). All Rights Reserved.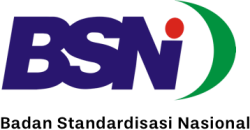 This work is licensed under a
Creative Commons Attribution-NonCommercial 4.0 International License
.