REALIZATION OF ITS-90 FOR RANGE OF 232 C – 962 C ON KE LP4
Abstract
The realization of ITS-90 has been done using the monochromatic radiation thermometer KE LP4 80-59 over a temperature range 232C - 962 C and wavelength 1.57 µm. The method used is the method of Sakuma-Hattori using fixed-point black body calibrator tin, aluminum and silver. The value of uncertainty of the KE LP4 80-59 at the temperature range for 95% confidence level and a coverage factor of k = 2, is expressed by the equation:
U(t) = 1,067461375 – 0,008000541.t + 2,586471.10-5.t2 -3,33928.10-8.t3 + 1,497270.10-12.t4

Keywords : the realization of ITS-90, the method of Sakuma-Hattori, the monochromatic radiation thermometer.
DOI:
http://dx.doi.org/10.14203/instrumentasi.v37i1.11
Copyright (c) 2014 Insturmentasi
Copyright &copy 2015 Jurnal Instrumentasi (p-ISSN:
0125-9202
, e-ISSN:
2460-1462
). All Rights Reserved.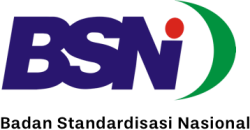 This work is licensed under a
Creative Commons Attribution-NonCommercial 4.0 International License
.